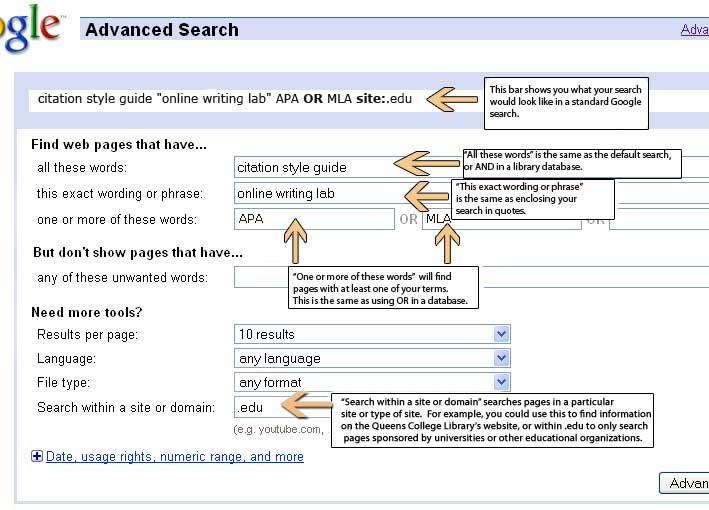 We can benefit greatly just by using Google. Most of the people REALLY has NO IDEA how to utilize Google to its full potential. And to do this, we are just going to take help from Google's often little known advanced operators.
List of search operators: Site: => this operator is used with a url in order to find all indexed pages for a particular domain. Example: site:yoursite.com
Inurl: => this operator is used to search for url's that contain a specific word or words in it. Example: inurl:guitar lessons
Allintitle: => this operator is used to search for pages that contain multiple specific words in their title. Example: allintitle:guitar lessons, => this operator is used to exclude results with specific words in them. Example: guitar "post a comment" -nofollow + => this operator is used to include results with specific words in them. Example: music "post a comment" +dofollow.
Intitle: => this operator is used to include results with a single specific word in the page title. Example: intitle:music lessons
Intext: => this operator is used to include results with specific words anywhere in the page text. Example: intext:learn guitar *
=> this operator is used as a wild card. So if you were to search for "the best *", the results would come back with any page that was about the best something. Example: "top * toys" – This will return results such as top 5 toys, top Christmas toys, etc…
=> this operator is used to search for all synonyms of the word directly following it. Example: dog training ~advice (this will also search for terms such as dog training instruction, dog training guide, dog training tips etc…) ..
=> this operator is used to search for a range of numbers. Example: Top 1..99 songs (this will return any post such as top 12 songs).
Filetype
: – this will allow you to search for just a certain filetype such as a .doc or .pdf file.
Example: filetype:pdf dog tricks
will find pdf files related to dog tricks.
=> this operator is used as an OR operator, allowing you to search for keyword1 OR keyword2 Example: best dog tricks|training (Will return results for best dog tricks or best dog training).
It is very easy to make slight changes to the search strings and get your desired results. That is what makes it so much fun and rewarding.
Google does have an Advanced Search Page that many people do not know about or utilizes. But I don't find it as flexible or easy to use. One thing I always do, once you come up with a good search string, make sure you note it down and save for your future projects.
How to use these advanced search operators mixed with footprints ?
If you are not familiar with "what footprints are" please read this article.
This is best part of this tutorial. I'll show you few examples of how to combine the footprints with the Advanced Search Operators and come up with seriously powerful backlink finding search strings.
Inurl:/register.php "keyword" This string will give you registration pages by using the inurl function to look in the url and the register.php footprint. You can replace the keyword with any keyword according to your niche. This will give you a broad range of results from forums to guestbooks to web 2.0 sites and more.
TIP: Very often I just include an additional keyword such as "forum" or "blog" to get more targeted results.
"keyword" blog – This string will simply search for the sites that contains blog and the keyword of your choice.
site:.edu – It will search for just .edu sites.
captcha -nofollow – It'll exclude any sites that say captch or nofollow on them.
"leave a comment" – It will search for the words leave a comment on the site. Therefore what it does, it'll find all the .edu blogs that you can comment on. VERY POWERFUL. You can also change the blog to a different footprint word such as forum, guestbook or any other footprints. Let's see another variation for finding similar .edu sites…

"keyword" site:.edu "comment" -"you must be logged in" -"posting closed" -"comment closed"
This string is just a variation to previous string. The important thing to note that you can alter the .edu portion to any other extension you wish like .gov, .info, .com etc. .. Few more variation to find blogs for commenting: inurl:.gov+inurl:blog "keyword" site:.gov inurl:blog site:.com inurl:blog "post a comment" "keyword"+inurl:blog site:.edu site:.edu inurl:"wordpress" + "leave a comment"
What do you see in the above examples is that the order of footprints and advanced search operators does not really matter. Similarly, you can go through other search operators and footprints and come up with other personalized search strings for finding blogs to comment.
COOL TRICK: How to search for recent content in Google? Just take any of the search string, paste it to search box and hit enter, now if you go to the left side of the page, you'll find search options "The Web", just click on "More search tools" In case you can't find it. Just press "CTRL+F" and search for "More search tools". Once you click on it. You can sort results according to past hour, past 24 hours, here is how it looks…
Here are my few advanced search strings that I use to search forums and leave backlinks. This way you can find unlimited supply of Paul and Angela type backlink locations using searches such as these.
site:.edu "powered by vbulletin" This search string returns all .edu type forums powered by vbulletin. You can also do "powered by SMF" or "Powered by Invision Power Board" or /phpbb2 for finding other kind of forums.
inurl:login site:.com "forum" This string searches for .com type sites forums that have login form in the url. Additionally you can add your keyword to find niche related forums. "keyword" forum site:.gov This searches for .gov type forums that contains your specified keyword.
Additional variations for finding forums:
inurl:phpbb2 site:.edu
inurl:forum site:.mil
"keyword" "powered by vbulletin" inurl:forum
inurl:forum.*.edu
inurl:forum.*.com "keyword"
Just be creative and once you've a fine understanding of how it works, you can easily put them together in almost unlimited no. of ways. Here are some other good search strings for finding Social Networking Sites and Web 2.0 sites:
inurl:bravenet.com
"powered by buddypress" "keyword"
inurl:ning.com
inurl:/main/authorization/SignIn
inurl:/main/authorization/SignUp
"powered by elgg" "keyword"
inurl:register.php + "powered by elgg"
I have not added this to the list of footprints, but the other great way is to search for guest blogging opportunities if you want to get backlinks through guest posts. Try these footprints below.
"keyword" "guest blogger"
"keyword" "become a contributor"
"keyword" "write for us"
I tend to use these next ones more for finding content and doing research, but you can find some great blogs to comment on as well.
"top 1..99 ways" blog
"top 1..99 reasons" blog
"top 1..99 list" blog
These searches will find list based posts such as Top 27 ways to workout. Of course with each of these advanced searches, you can include a keyword to find list type posts on specific topics. Also, if you want lists that are no smaller than15, then change the numbers to 15..99. I actually think this is one of the funniest searches, because top lists are always interesting and informative.
One more golden nugget of a search you can use is to use a variant of one of the following search string in order to find lists that others have compiled of different backlinking opportunities.
Intitle:list "keyword phrase"
"list * keyword * sites"
"high pr" "autoapprove"
"list * keyword * sites"
I just wanted to show you how it works with the few examples above, don't let that keep yourself from experimenting and finding other great footprints. I don't want to overwhelm you even before you get started.
My hope is that you can see that this is just scratching the surface of what can be done and how to find as many backlinking opportunities as you could possibly imagine. With this knowledge, you can sell backlinking services, build some powerful link juice to your own sites or even sell link packs on Warrior Forum. Whatever you decide to do, the important thing is that you take this knowledge and TAKE ACTION.
Read more about Seo and backlinks news:
1. 25 Killer Combos for Google's Site: Operator
2. 5 Search Query Operators Every SEO Should Know
3. Advanced Google Search Tricks Guide
4. Knowing Your Advanced Search Engine Operators
5. Top 6 Advanced Google Search Operators and Tips